Thanks to Google Alerts, I discovered a great review of Engaging Emergence by Ron Lubensky, from the Centre for Citizenship and Public Policy in Sydney, Australia.
An excerpt:
This is the sort of easy-to-read book that you want to leave lying around so others will find it accidentally. Maybe they'll recognise, as Peggy hopes, that modern life is not a predictable, steady state that is occasionally and annoyingly disrupted. Rather, life should be celebrated as an evolution of surprises, change and adaptation. Peggy provides us with a straightforward roadmap about how to constructively steward positive change.
In the last paragraph, Ron raised an issue about power (bolding is mine):
Engaging emergence requires that we talk to one another in a civil manner with mutual commitment. Perhaps wisely she has sidestepped the thorny challenge of motivating people who exercise power to graciously and generously devolve their authority to a shared enterprise. The book presumes that a situation where the practice can be exercised poses no political barriers to emergent change. Unfortunately, this would be a rare occurrence. So just like the enterprise of deliberative democracy, which requires the practice of engaging emergence, the initial challenge is just getting to step 1.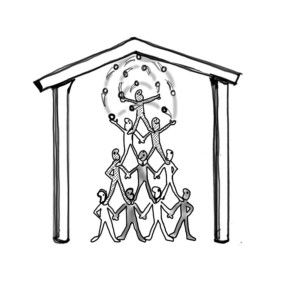 Since the challenge Ron raises is no doubt a common one, thought I'd share my exchange with him:
********************
Peggy, thanks for your elaboration regarding motivations to stepping up. It also points our community of practice to work harder to generate opportunities using the non-instrumental language you recommend. ps, I've posted sections of my review to Amazon for you! Best of success!
Posted by Ron Lubensky 05 October 2010 10:18 am | link