I did a guest post for Pegasus Communications last week, providing an appetizer for my book.  Below is a slightly longer version — with examples restored.  If you're looking for a taste of what it's about, read on.
What would it mean if we knew how to face challenging situations with a high likelihood of achieving breakthrough outcomes?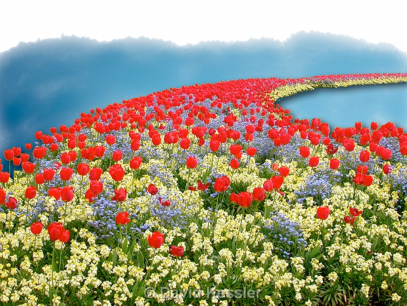 Success can occur on the scale of the Belfast Agreement that brought peace to Northern Ireland.  Or it could be in-the-making, like the Transition Town movement that supports communities to self-organize around initiatives that rebuild resilience and reduce CO2 emissions.  It might be modest, as when people or groups reconcile their differences, improving the lives of families, organizations, and communities.
Since the early nineties, I've sought to understand how we turn difficult, often conflicted issues into transformative leaps of renewed commitment and achievement.  I've used whole system change practices — methods that engage the diverse people of a system in creating innovative and lasting shifts in effectiveness.  I've co-convened conferences around ambitious societal questions like: What does it mean to do journalism that matters for our communities and democracy?  And I've delved into the science of complexity, chaos, and emergence – in which order arises out of chaos – to better understand human systems.  In the process, I have noticed some useful patterns, practices, and principles for engaging the natural forces of emergent change.  Here are a few highlights:
All change begins with disruption.  It's obvious if you think about it.  If there were no disruption, there'd be no need to change.  By developing a healthy working relationship with disturbance, we can turn resistance and denial into curiosity and creativity.
Since disruption understandably brings out strong emotions, compassion is a great attitude to cultivate.  At root, compassion means "to suffer with".  In other words, compassion reminds us that we're all in it together.
One powerful practice for engaging disruption compassionately is asking possibility-oriented questions.  Consider these appreciative questions posed by people engaged in the emotional roller-coaster of journalism's upheaval:
The Seattle Post-Intelligencer has closed its doors, part of the wave of newspapers folding. Given this loss, what's possible now?
With journalism in such upheaval, what curriculum serves journalism students well?
If not gatekeeper, what is my role as a journalist?
How do I connect community in civil conversation so that news not only informs but engages people in civil society?
Such questions help create welcoming conditions for engaging the diverse stakeholders who care about quality news and information in a democracy.
Engaging disruption creatively helps us discover differences that make a difference.  At the heart of engagement is a practice that helps people to maximize creativity, generating innovative ideas and establishing new relationships.
The practice is taking responsibility for what we love, as an act of service.  This game-changing way of operating liberates hearts, minds, and spirits.  It calls us to pay attention to what matters most, putting our unique gifts to use.  As we spread our wings — with all our diversity — it may seem like an invitation to chaos.  Yet a meaningful organizing question and welcoming conditions provide spaciousness to explore differences and spark innovation, solidarity, generosity, and unexpected answers.
For example, Google is famous for giving its engineers 20 percent of their time to work on something company-related that interests them personally. Often, the engineers form teams that create new products, improve development methods, and make customers happier. (See The Google Way: Give Engineers Room.)
Wise, resilient systems coalesce when the needs of individuals and the whole are served. Discovering shared meaning turns "us" and "them" divides into a spirit of "we".   This shift is so counterintuitive!  Many of us live with an unspoken belief that to belong, we must conform.  We sacrifice to make compromises that no one likes and feel more isolated as a result.
The practice of collective reflection helps surface what matters to individuals and the whole.  It can generate unexpected breakthroughs containing what is vital to each and all of us.
Such reflection re-framed the state of journalism for many mainstream and new media people by making visible an industry shift: journalism still serves the public good and is now entrepreneurial.  This realization inspires innovation and mobilizes leaders who have been unsure what steps to take.
What's Possible Now?
If a turning point occurs when we experience ourselves as part of a larger system, how do we create such experiences at scale?
Joel de Rosnay, author of The Symbiotic Man, introduced the notion of "the macroscope". Just as microscopes help us to see the infinitely small and telescopes help us to see the infinitely large, macroscopes help us to see the infinitely complex.
Creating maps, stories, art, media, computer models, or some combination of them all can provide a macroscopic view through which we come to know we fit together. It can clarify our own role and inspirr commitment to others and to a greater good.
If the challenges ahead have you stumped, don't despair.  We are ideally positioned for a promising way forward.  Ask possibility-oriented questions.  Engage others creatively.  Reflect together on what you learn.  And share your stories of upheaval turned to opportunity.
[1 Mediratta, B., & Bick, J. (2007, October 21). The Google Way: Give Engineers Room. Retrieved November 24, 2010, from The New York Times: http://www.nytimes.com/2007/10/21/jobs/21pre.html