Hello.
I have been fascinated by change for as long as I can remember.  It has been central to my work since the mid-1970's.
This site is a lens into how I work with change today, particularly that elusive sort of change that occurs when the assumptions we take for granted stop functioning as expected.
Whether you work with organizations, communities, or other forms of social systems, I hope you find the resources here of service.
Peggy Holman
BIO
Seattle based author and consultant, Peggy Holman, has helped explore a nascent field of social technologies that engage "whole systems" of people from organizations and communities in creating their own future. She is a recognized leader in deploying group processes that directly involve hundreds, or thousands, of people in organizations or communities in achieving breakthroughs.  Working with a variety of organizations, including tech, biotech, government, nonprofits, and others, she consults on strategies for enabling diverse groups to face complex issues by turning presentation into conversation and passivity into participation.  Peggy's clients include Biogen Idec, Boeing, Microsoft, the National Institute of Corrections, the Bill and Melinda Gates Foundation. Peggy also taught system change in the American University's Master of Science in Organization Development program.
In 2001, Peggy co-founded Journalism that Matters (JTM) with three career journalists. Journalism That Matters has built a national coalition of journalists, educators, reformers and others to support people who are reshaping the emerging news and information ecosystem. To date, JTM has hosted 18 national discussions on this changing news ecology, sparking numerous initiatives that are influencing the new media landscape.
In the second edition of The Change Handbook, Holman joins her co-authors to profile sixty-one innovative engagement processes used by organizations and communities to uncover creative responses to complex challenges. The book is the considered the definitive resource for leaders and consultants who work to increase resilience, agility, collaboration, and aliveness in their organizations and communities.
Peggy's latest book, Engaging Emergence: Turning Upheaval into Opportunity, won the 2011 Nautilus Gold Book Award for Conscious Business/Leadership.  A roadmap for tackling complex challenges, Engaging Emergence provides stories, principles, and practices for inviting people to come together and turn disruptions into possibilities.
Face disruptions and invite others to join you to realize new possibilities
________________________________
Also available: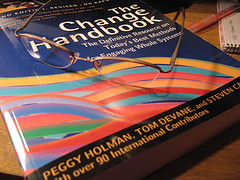 The Change Handbook: Group Methods for Shaping the Future, 2nd Edition
by Peggy Holman, Tom Devane and Steven Cady and over 90 contributors
________________________________
Philosophy
Healthy, long term relationships are based in high trust.
Involving people who are directly affected in decisions about their work leads to more productive and successful results.
Growing a community that embraces continuous learning is the basis for sustaining results over time.
Organizations that learn to self-organize are more nimble and responsive, bringing the unique contributions of everyone most fully into practice.
In my twenties, I developed 2 theories that have guided me through the years:The skiing theory of life. I didn't learn to ski until I was 23. I quickly learned that the counter-intuitive way to be successful was to lean into the hill. Rather than causing me to speed wildly towards the bottom, it meant I could set my own pace with grace. Recognizing that the best course of action is often the opposite of what seems best has continued to play out in many realms.The ice cream theory of life. I love ice cream. It's my favorite food. While debating with friends the merits of high quality brands vs. cheap brands, I learned that the reason people tolerate cheap ice cream is that they rely on their memory of how ice cream tastes. Rather than enjoying the real thing in the moment, much of the time, we rely on our memory of they way it should be. To enjoy most fully, I treat every bite as if it were my first. To live most fully, I do my best to live every moment as if it were my only moment.
______________________________________________________________
EDUCATION
1983, MBA, Emphasis in Finance, Seattle University
1976 BA, Drama, University of Washington
______________________________________________________________
Partial Client List
Ala Kukui Retreat Center
American College for Advancement in Medicine
American Library Association
American Press Institute – The Media Center
American Society of News Editors
Antioch University
Associated Press Managing Editors
Association Montessori Internationale
AT&T Wireless Services
Association of Jewish Community Professionals
Biogen Idec
Boeing Company
Buddhist Churches of America
Co-Intelligence Institute
Computer Professionals for Social Responsibility
Department of Labor: Employment & Training Administration
Embry-Riddell Aeronautical University
Fetzer Institute
Fred Hutchinson Cancer Research Center
Bill & Melinda Gates Foundation
The Gazette Company (Cedar Rapids)
Girl Scouts, Totem Council
Idipron, Programa Bosconia-La Forida, Colombia
Institute for Educational Leadership
Intuit
Israeli Ministry of Education
Israeli-Palestinian Center for Research and Information
Justice System Assessment & Training
Kaiser Permanente
Kettering Foundation
League of Education Voters
Los Andes University, Colombia
Media Giraffe Project
Merck
Microsoft Corporation
National Forest Service
National Institute of Corrections (NIC)
National Park Service
Nature Conservancy of Washington
New England Associated Press News Executive Association
Novartis Pharma AG, Switzerland
OCLC
Pemco Mutual Insurance Company
Perkins Coie
Positive Futures Network/YES! Magazine

Seattle Times
Seattle University, Organization Systems Renewal (OSR)
Spirited Work at the Whidbey Institute
St. Joes Medical Center
Washington State Arts Commission
Washington State Parks and Recreation Commission
911 Media Arts Center
______________________________________________________________
Contact Information

Want to reach me?
I live in Bellevue, Washington, just outside Seattle.
Phone: 425.746.6274
Skype: PHolman
Twitter: PeggyHolman

For book references, look for #EngagingEmergence
Engaging Emergence on Facebook
Flickr: Peggy Holman